Een bestelling plaatsen in onze beveiligde webshop:

Onze gehele website is voorzien van een EV SSL-Certificaat zodat de informatie die uitgewisseld wordt tussen uw browser en de webserver maximaal beveiligd is. U kunt dit zien aan het groene https adres, bedrijfsnaam en slotje in uw browser linksboven, een veilig idee !

Verzendkosten slechts € 4.95 binnen Nederland, boven de € 99.00 GRATIS bezorging
Orders op maandag t/m donderdag voor 14.00u geplaatst en betaald worden dezelfde dag nog verzonden (mits op voorraad)
Vrijdag verzending tot 10.30u
Alle vermelde prijzen in onze webshop zijn incl. btw

Indien u via de webshop een bestelling plaatst hebt u de keuze uit de onderstaande betaalmogelijkheden: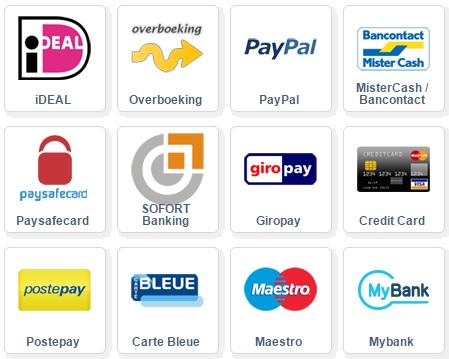 iDEAL betaling (alleen Nederlandse bankrekeninghouders)
Vooruitbetalen / overboeking (u ontvangt automatisch een PDF factuur per email)
PayPal (PayPal with credit card)
Bancontact / Mr Cash (Belgie)
Paysafecard
Sofort Banking (Deutschland, EU)
Credit Card Mastercard / VISA
Giropay
Postepay
Carte Bleue
Maestro
MyBank
Pro forma, only on request via email info@weerstationkopen.nl if you have a valid BTW/VAT number

Alle iDEAL en overige banktransacties worden veilig verzorgd door Pay.nl

Indien u geen orderbevestiging of email van ons hebt ontvangen, check uw spambox.

Voor bedrijven, overheid, industrie en commerciele handel is het in bepaalde gevallen mogelijk om op rekening geleverd te krijgen. Gaarne eerst contact vooraf via info@weerstationkopen.nl voor de betalings- leveringsvoorwaarden.

Verzendkosten:

Beneden een orderwaarde van € 99.00 verzendkosten € 4.95 bij bezorging binnen Nederland
Vanaf een orderwaarde van € 99.00 geen verzendkosten bij bezorging binnen Nederland
Belgie, Duitsland en Luxemburg verzendkosten € 9.95 ongeacht orderwaarde
Oostenrijk, Denemarken, Frankrijk en Engeland verzendkosten € 19.95 ongeacht orderwaarde
Overige EU landen verzendkosten € 29.95 ongeacht orderwaarde
Verzendkosten buiten EU op aanvraag

Afhaal:

Ook is het mogelijk om een weerstation of accessoire af te halen. Dit is meestal mogelijk in de ochtenduren doordeweeks, alleen na afspraak. Stuurt u ons dan een email wat u wilt afhalen of plaats de bestelling in de webshop en kies voor afhalen. Betaling contant of met PIN

PIN / contant betaling bij afhaal:

U kunt bij ons aan de zaak betalen met PIN of contant (liefst zoveel mogelijk gepast)